I've been looking for something to set my liquid foundation with for a while, and while i've heard really good reviews on M.A.C Invisible Setting Powder, its a pro item. I know you can get pro stuff, without being a pro, it's just really inconvenient for me, due to the fact the nearest pro store to me is around an hour away. I've also been hearing some really good things about Makeup Forever Microfinish Loose Powder, which is $30 dollars from Sephora. The thing that is cool about this product is that it is %100 pure silica, meaning it will be super soft. And, I am prone to oily skin, so this should help dry up any excess oils.  
Although I have pretty good skin, so I only use liquid foundations when I'm breaking out or need a little bit more coverage. Right now, I'm using M.A.C Mineralized Satinfinish Liquid, applied with the 187 brush, which gives FLAWLESS coverage, and I've just been setting it with a bit of MSF in Medium. but, I usually just use the MSF, so the liquid and powder is ALOT of coverage for me and usually feels pretty cakey.
Hopefully I'll pick the Makeup Forever Powder when I'm in Buffalo!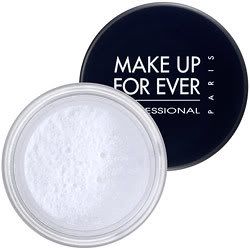 peace!